Since my last update there have been a lot of wonderful happenings at TLGC.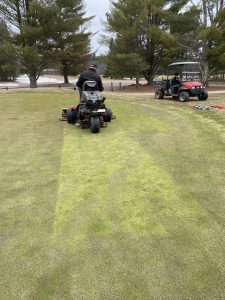 Snow from our April snow storm has melted
GreenJacket covers and foam were stashed away for the summer
The golf course crew has been hard at work getting the property in shape while maintaining social distance with others
We made the first cut of 2020 on putting greens
Governor Evers allowed us to open the golf course (walking only) on April 24th, and the timing was perfect because we had wonderful opening weekend weather.
2″ of precipitation was gladly received last week, which really helps the turf wake up and start strong for the golfing season.  Also easing the burden of wildfires throughout the state as well.
Golf carts were allowed to be used by all golfers on April 29th
Keep an eye out for the Redhorse spawning under the bridge, it shouldn't be long!
My crew and I truly enjoy providing a place where everyone can get outside and enjoy some fresh air during these trying times. Stay safe, and I hope to see you all soon.
– Brian